8 Amazing Airstream Floor Plans
Are you searching for a new travel trailer? Trying to choose the perfect floor plan? You should research Airstream travel trailers.
The Airstream trailer is an American icon that has maintained its popularity since the company gained popularity in the 1950s. It is so iconic that when you think of a trailer, you likely picture the characteristic and durable aluminum tube unique to Airstream.
The brand offers a diverse set of trailer options. It continues to grow and improve its products as freedom of movement becomes an increasingly popular lifestyle in the U.S.
Choosing the right travel trailer isn't just a matter of size. You must also consider the floor plan of your portable home, as each trailer offers different bells and whistles. Check out our comprehensive guide to the 8 best Airstream floor plans below!
Creating a Floor Plan: What Does Airstream Have to Offer?
Airstream travel trailers come in all shapes and sizes, from 16 to 33 feet long. They are perfect for travel or full-time living. To choose the best trailer, you must consider how often and how long you will use it for.
When creating a floor plan, Airstream considers the potential needs of all its customers. Thus, some include extra sleeping space for large families, office space for digital nomads, and extra storage for extreme sports equipment.
Here are some of the most popular Airstream floor plans.
Airstream Classic Travel Trailer Floor Plans
The Airstream Classic is the largest of their available trailers. There are currently two size options for the classic: 30' or 33'.
The newest Classic features Smart Control Technology, which allows you to control electrical components of the trailer with your phone. Thus, you can control the lights, awning, and heating or air-con system with the touch of a button.
The Airstream Classic is spacious, separating the bathroom, kitchen, living, dining, and bedroom spaces with room to spare. There is plenty of storage space and a fully-functioning kitchenette to cook a full meal.
You could easily use this trailer for long periods of travel or even as full-time living quarters. You won't miss your house after spending a couple of days here.
A new Airstream Classic Travel Trailer can vary from $156,000 up depending on customizations and options. The sleeping arrangements can accommodate up to five people.
1.    Classic 30RB or 30RB Twin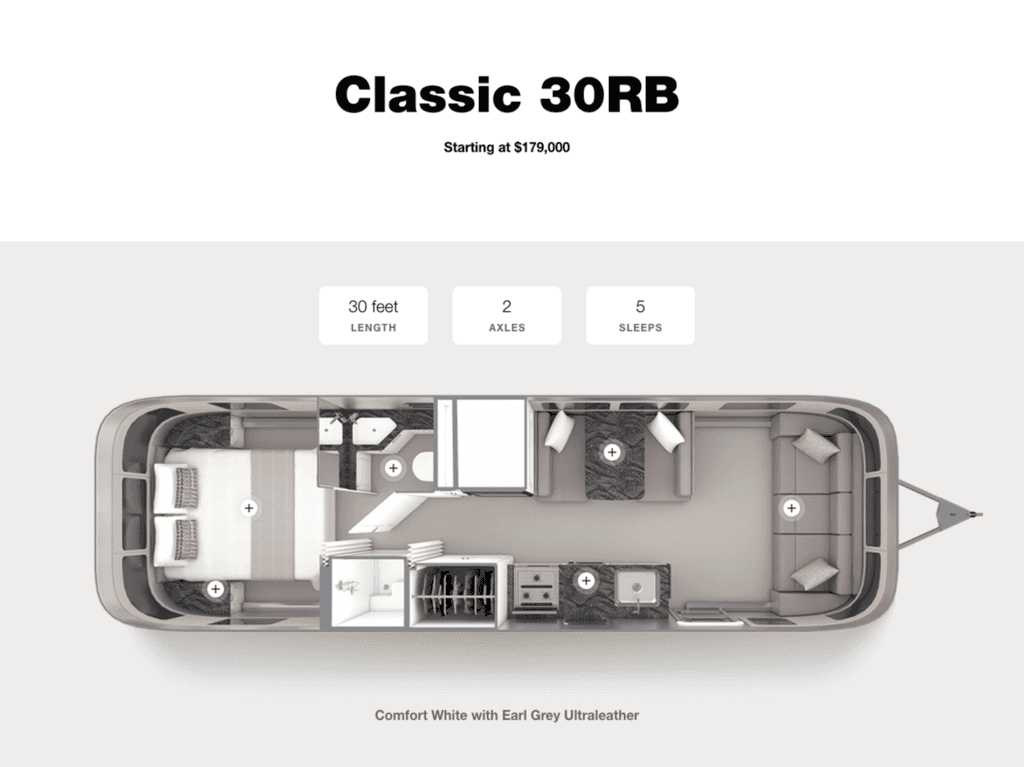 The Classic 30RB features private sleeping quarters and a dinette that doubles as a bed. There is an outdoor awning if you want to sit outside and enjoy the fresh air as well.
2.    Classic 33FB or 33FB Twin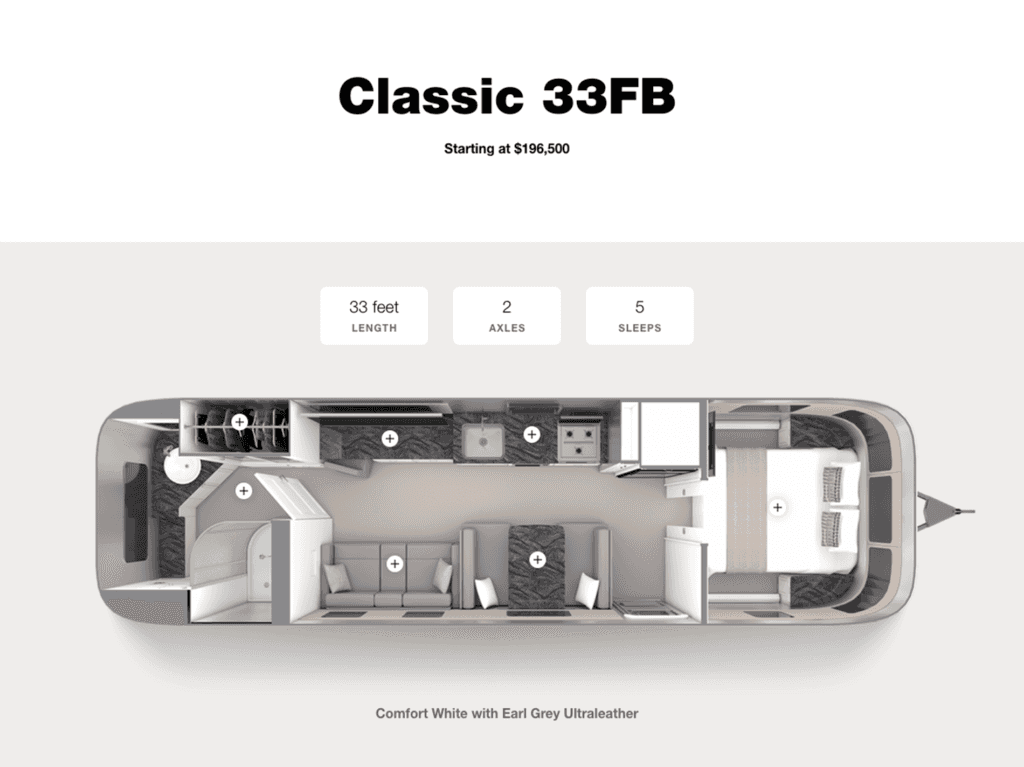 Nearly all Airstream trailers come with either a regular-sized bed or two twin beds in the sleeping quarters (hence the added "twin").
The only real difference between the Classic 33FB and the 30RB is the size! The 33FB is longer and therefore more comfortable.
Most Popular Floor Plans for the Airstream Flying Cloud Trailer
The Airstream Flying Cloud trailer is the company's most versatile option, offering several sizes from 23' to 30'. The Flying Cloud offers a private bedroom and an extra couch, so you can host friends comfortably.
The Flying Cloud uses pull-out cabinets for storage, meaning that your extra items won't take up any living space. There are also panoramic windows located next to the dinette, so you can enjoy a meal with a view.
Though your kitchenette won't boast the same luxuries as the Classic Airstream travel trailer, the equipment includes everything you need to cook a basic meal. It is a much more affordable option, providing everything for the essentials.
Depending on the size you choose, it will cost between $78,000 and $117,000.
The utility of the Flying Cloud travel trailer depends on the size you choose. While a 23FB might feel a bit small to act as living quarters, you could easily adapt to the 30FB as a long-term journey or permanent living space.
3.    Flying Cloud 23FB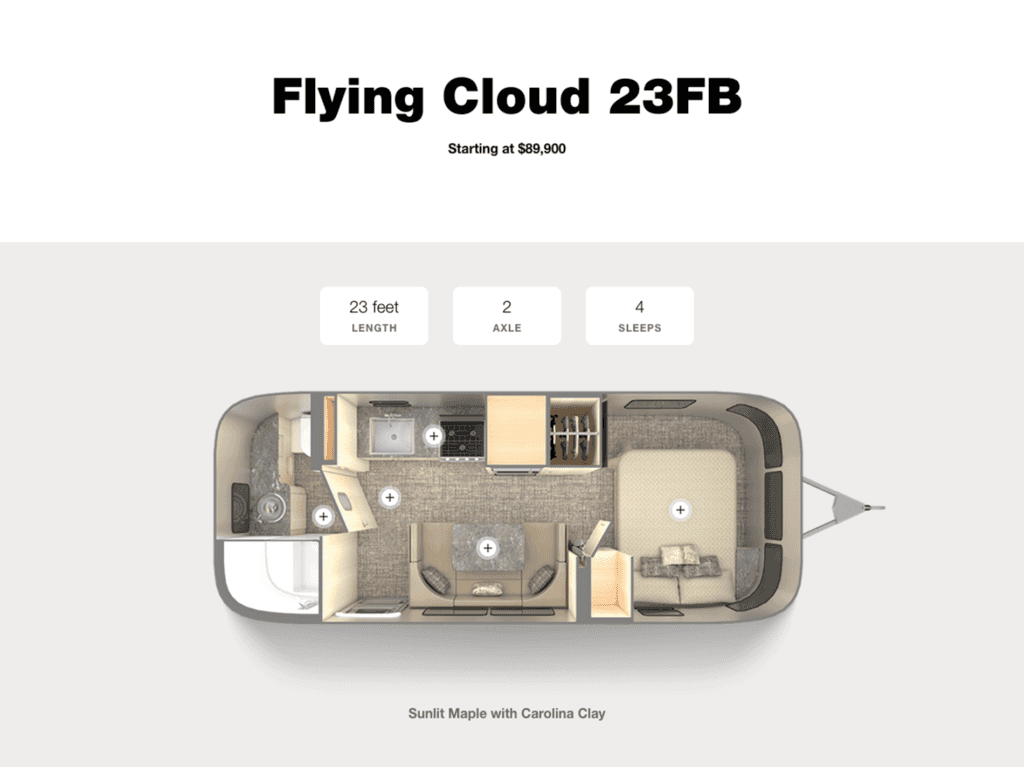 The 23FB offers a floor plan to scale. This cozy trailer can sleep up to four, although two would more comfortably enjoy it. You cannot request two twin beds with this option, and there is no extra couch included.
4.    Flying Cloud 27FB or 27FB Twin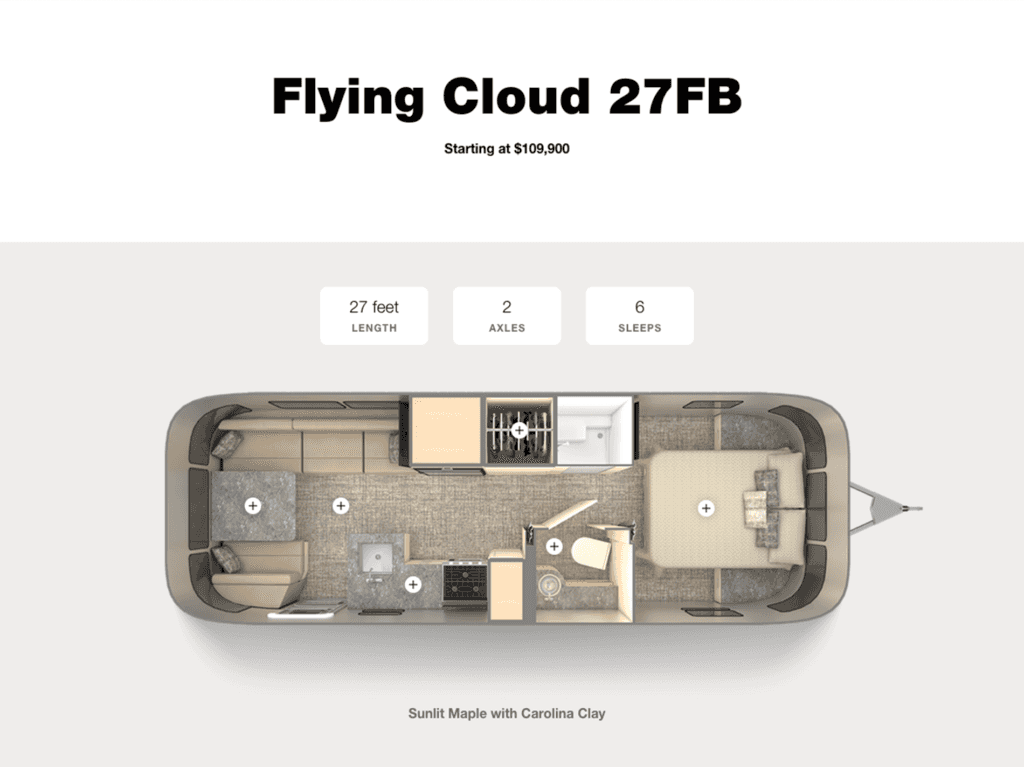 You can decide between a queen-sized bed or two twin beds for the 27FB. This trailer includes an extra couch and panoramic windows at both the front and back of the trailer. You can fit up to six people in this space.
5.    Flying Cloud 30FB Bunk or Office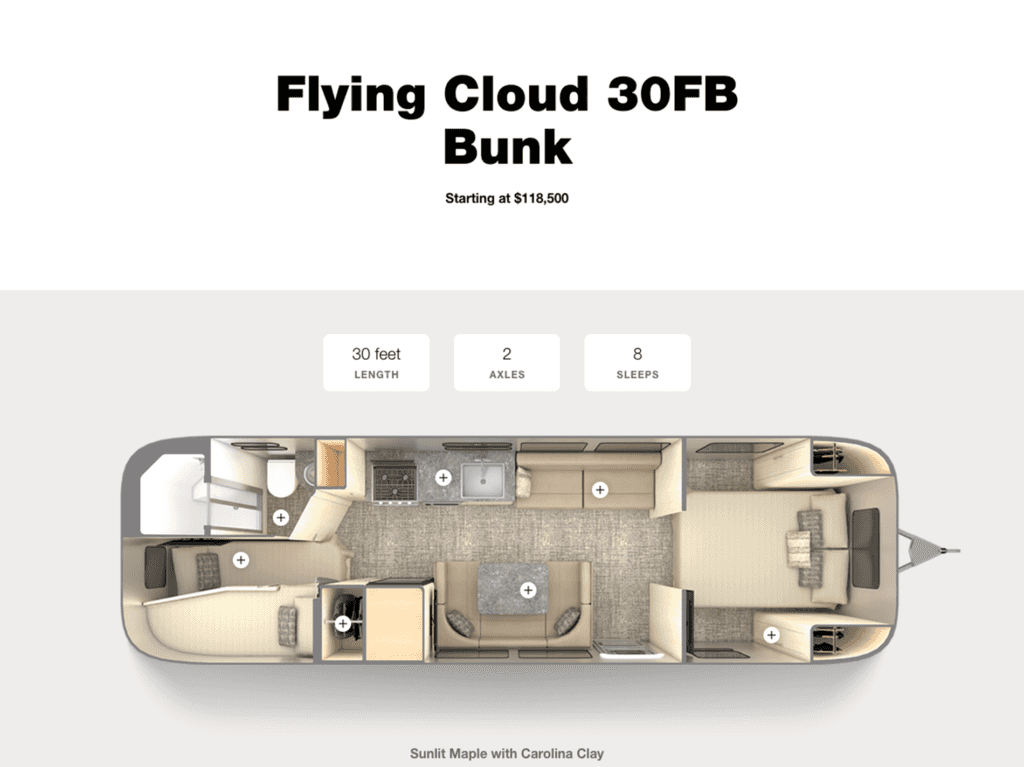 The Flying Cloud 30FB is a travel trailer designed for living. You can either fill the extra few feet of space with bunk beds for your family or a mini office for those working as they roam.
Other Floor Plan Options
If you need a trailer for romantic weekend getaways or a van chassis, these are the best floor plans for you.
6.    Nest 16U Dinette or 16FB
The Airstream Nest is one of the best trailers to use for the classic American road trip. This adorable camper is 16' long and you can select either a dinette (which doubles as a bed) or a bed for your trailer. The Nest is perfect for Airstream travel.
7.    Atlas Murphy Suite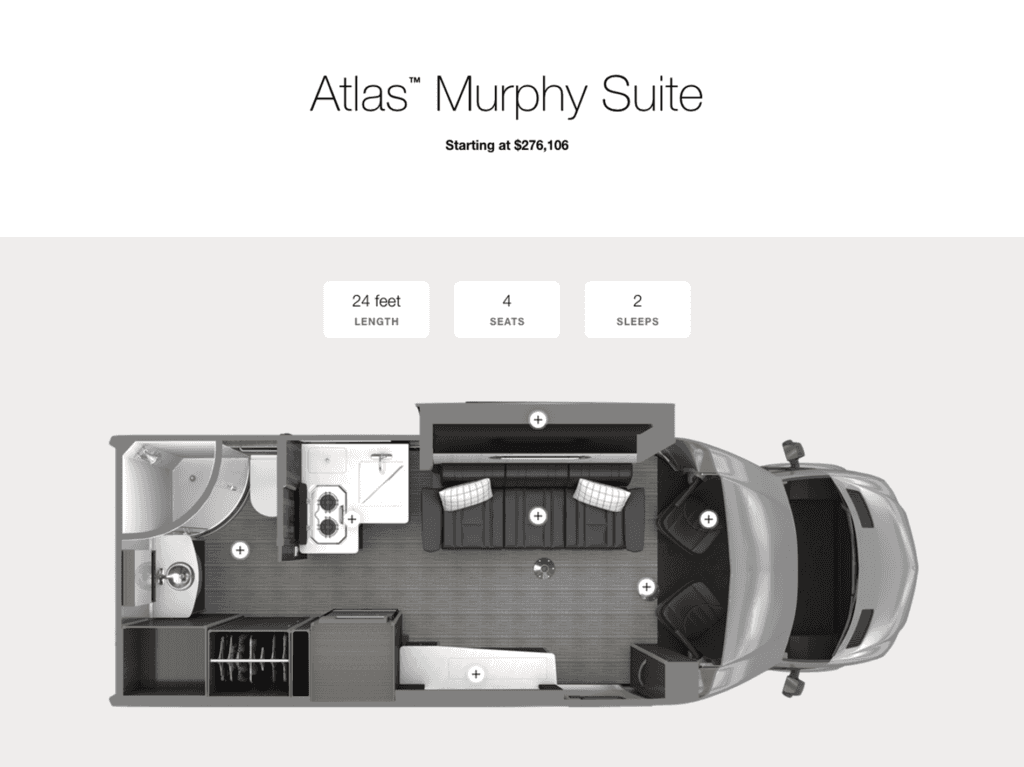 The Atlas Murphy Suite is a van chassis that can sleep two people and seat four. It includes the basics: a couch that doubles as a bed, a small kitchenette, and a full bathroom. It is ideal for light travel or for anyone looking to enjoy the "van life."
8.    Interstate 24GL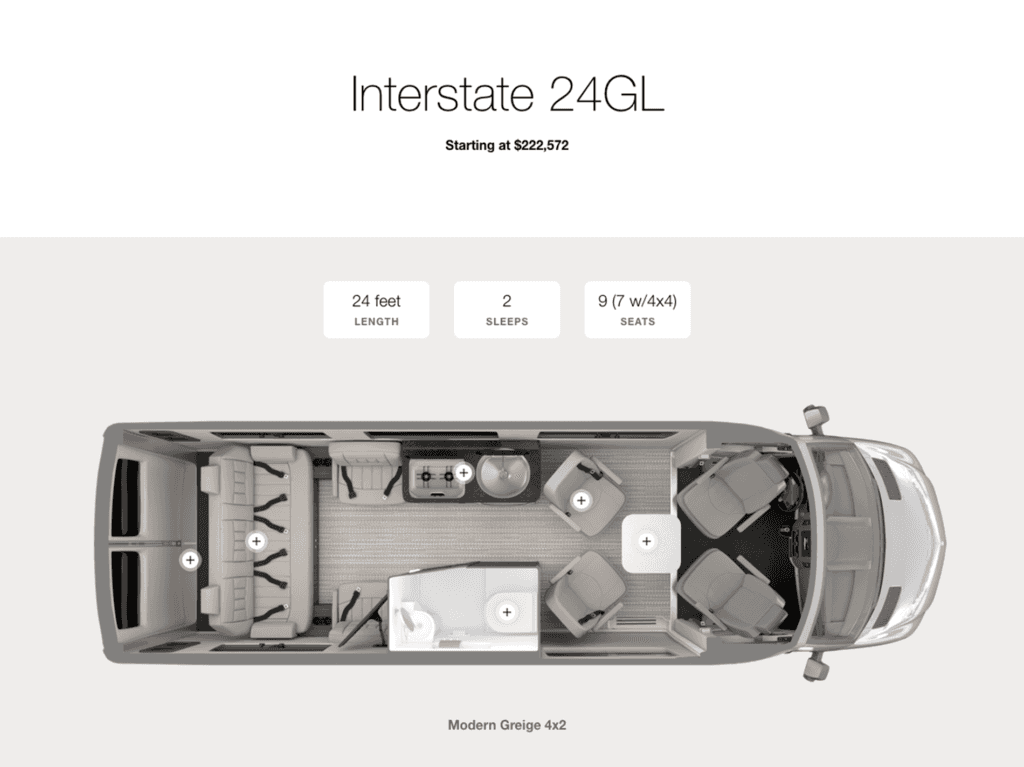 The Interstate 24GL is bigger than the Atlas and can seat nine people. This is a fantastic option for group road trips as it is spacious and includes a kitchen and a full bathroom. Two people can sleep in this touring coach.
Ready to Hit the Road in One of Airstream's Touring Coaches or Travel Trailers?
If one of these floor plans interests you, contact We Are Airstream Superstore. As an Airstream travel trailer dealership located in Chandler, AZ, we offer new and pre-owned Airstream options. Call us at (480) 467-3737 for a quote or monthly financing today.