Airstream Bambi Guide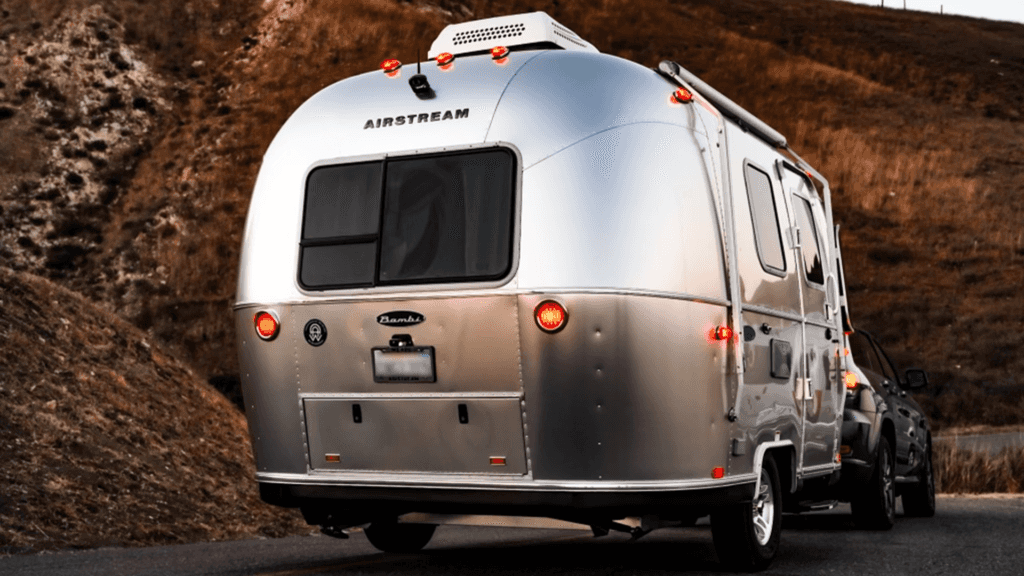 The Airstream Bambi line is a fan favorite with plenty of space to relax and a classic retro design. Lightweight and aerodynamic, the Bambi is the smallest of the Airstream RVs.
The Bambi travel trailer is ready for adventure and gives you the comforts of home while on the road. You have a bathroom, dinette, shower, refrigerator, and a double bed. Just pack up your things, hitch up your trailer and head out on your next camping trip.
Models of Airstream Bambi RVs
You get the choice of four Bambi floor plans in these travel trailers. All options:
Sleep four
Have a galley kitchen
Come with a wet bath
Feature a convertible front dinette
Are 8 feet wide
Are 9,3 feet high
Include a 23-gallon freshwater tank
Have a screen door
Have a retractable awning and blackout curtains
Come with a double bed with a memory foam mattress
Have a refrigerator and microwave
Come with overhead storage

Airstream Bambi 16RB
The Airstream Bambi 16RB is an ideal introduction to comfort on the road. Its features include:
16 feet in length
Net carrying capacity of 500 pounds
30-gallon black water tank
Seven windows and a skylight
12,000 BTU ducted furnace
Airstream Bambi 19CB
The Bambi 19CB offers extra space and has the best net carrying capacity. Its features include:
19 feet in length
Net carrying capacity of 1,350 pounds
29-gallon grey water tank
18-gallon black water tank
11 windows and a skylight
16,000 BTU ducted furnace
Airstream Bambi 20FB
The Bambi 20FB ramps up RV living with extra sleeping space. Its features include:
20 feet in length
Net carrying capacity of 1,000 pounds
30-gallon grey water tank
18-gallon black water tank
11 windows and a skylight
18,000 BTU ducted furnace
Airstream Bambi 22FB
The Bambi 22FB is the most luxurious model and offers you a fantastic eight feet of extra space over the entry-level model. In addition, it has:
22 feet in length
Net carrying capacity of 1,100 pounds
30-gallon grey water tank
17-gallon black water tank
Nine windows and a skylight
18,000 BTU ducted furnace
Features That Make Bambi Airstream Travel Trailers Special

Spacious Wet Bath and Plumbing
Hot running water beats a cold outdoor shower every time. Bambi travel trailers also have a proper toilet and a stainless steel kitchen sink. Your trailer has everything you need to clean up after a long day. Stylish faucets finish off the design.
Outstanding Vistas and Lounging Space
Panoramic windows allow you to enjoy every minute of big adventures. The 2020 Airstream Bambi travel trailer is perfect for a sightseeing road trip.
Generous Under-Bed Storage
There are many reasons that private sellers get premium prices if they sell Bambi motorhomes. Plenty of storage under the front bed allows you to take full advantage of your floor plan.
Electric Refrigerator
Your refrigerator runs on the powerful battery, allowing it to cool fast and stay cold. It's a valuable addition to your dinette and takes up little space in all the floor plans.
Appliances
Maximize the space in your Bambi RV with a cutting board that fits over the sink. Then remove it and clean it up in the double sink. Cooking and cleaning on the road just became a lot simpler.
Air Conditioning
The air conditioner is one of the features that makes Airstream life more comfortable. The unit features variable settings and heat strips to keep you warm in winter.
Memory Foam Mattress
The plush master bed lets you get a great night's sleep to keep your energy levels up. The quilted bedspread and matching bedding make a stylish statement and keep you warm at night.
Convertible Dinette
Bambi floor plans feature a table that you can convert into a sofa, bed, or extra seating for maximum versatility. Eat comfortably and then enjoy an after-dinner drink on the couch.
Blinds and Blackout Curtains
The windows afford unbeatable views during the day. However, you'll have privacy at night and can block out the light to sleep comfortably.
Perfomatex
The seat covers resist mold, mildew, stains, and fading. They're easy to wipe clean and will withstand even the most humid conditions.
Built-In Entertainment
These travel trailers feature a high-quality stereo system. Connect to your phone or laptop to stream music or listen to a local radio station. The HD TV and DVD player round off your night's entertainment and run on both battery and shore power.
Recharge Your Devices
You will find several 110V outlets and USB ports to recharge all your electronics.
Two-Burner Cooktop
The stove has two burners and a tempered glass cover that doubles as a countertop.
Overhead Cabinets
The roll-top cabinets maximize your room in the RV and offer plenty of storage.
Exterior Features
Rear-view Monitoring
Another feature that the private seller benefits from with the Bambi is the rear-view monitoring system. The camera makes it easy to back into spaces, park, or reverse.
Solar-Ready
If you plan to go off-grid, it's time to sign up for Airstream Bambi solar living. The wiring is already in place for you to add on solar panels.
Awning to Extend Airstream Bambi Living
Made fromWeathermax® fabric, the awning provides shade right on your doorstep. It cools your trailer down and creates a shady spot for you to relax.
Exterior Storage Locker
Your Airstream has a big storage locker to keep your games, camp chairs, and other accessories.
Exterior Shower
Think of this as your mud room. Clean dirt off yourself and your gear before dirtying your Airstream Bambi.
Gas Grill Connection
The low-pressure grill connects to the Weber for a Saturday afternoon barbecue, smoking meat, or for any recipes you like.
Panoramic Window
The Airstream Bambi RV has a lovely wide view windscreen to give you a complete view of the road. Rock guards protect the glass from flying debris.
Are You Ready for a Test Drive?
Is it time to take the Airstream Bambi RV for a spin? Do you want to learn more about it? Sign up for Airstream updates on our website and contact us at (480) 467-3737 when you're ready to discuss your options for your travel trailer.