Airstream Basecamp Guide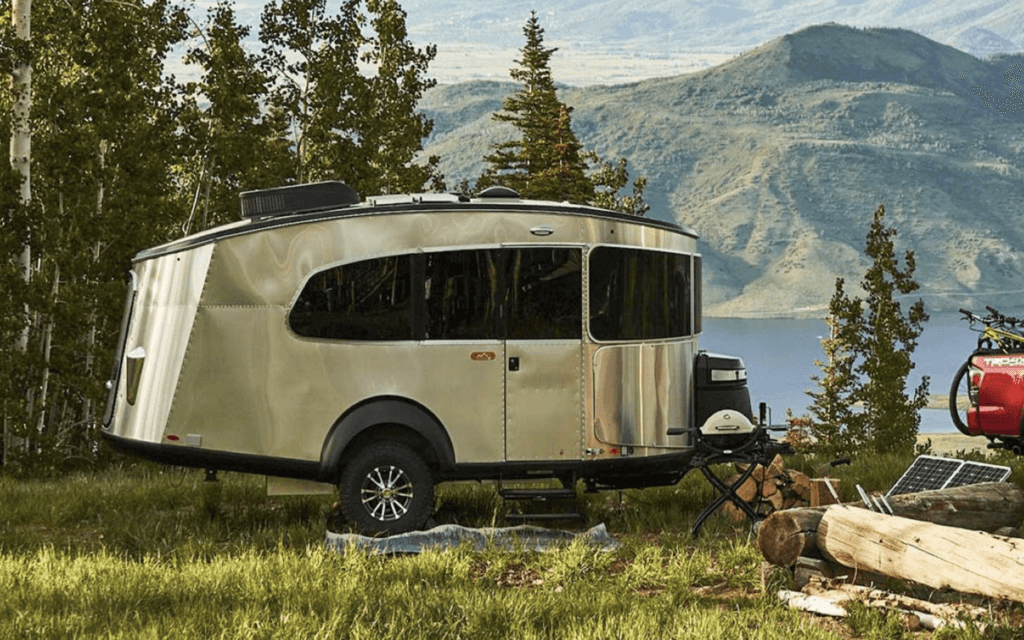 Do you want to pack your things and travel? The Airstream Basecamp is ideal for the adventurer. Built to comfortably sleep between two and four people, it lets you travel in style. Head out on the ultimate road trip or camp in comfort—the choice is yours.
With the Airstream Basecamp, you have everything you need without the hassle of setting up a tent or lugging around heavy camping gear. The Airstream Basecamp is a small camping bob wheeler trailer incorporating high-end features and practical style. Featuring an onboard restroom, sleek galley, and full bed or seating area, comfort is the name of the game.
Meet the Airstream Family of Travel Trailers
There are two basic models on offer. The Basecamp floor plans differ slightly between the two, with the Airstream Basecamp 20 offering a more spacious setting and four extra feet of length.
Airstream Basecamp 16
The Airstream Basecamp 16 comfortably sleeps two and is ideal for solo adventurers or couples. The basic specifications are:
16 feet in length
7 feet in width
8 feet 7.5 inches in height
Sleeps two
21-gallon fresh water tank
24-gallon black water tank
Eight windows and a skylight
12,000 BTU ducted furnace
Refrigerator
Microwave as an optional extra
Airstream Basecamp 20
The Airstream Basecamp 20 will comfortably sleep four with plenty of room for your next adventure.
The basic Basecamp 20 features include:
20 feet 2 inches in length
7 feet 9.5 inches in width
9 feet 5 inches in height
Sleeps four
23-gallon fresh water tank
28-gallon gray water tank
21-gallon black water tank
Eight windows and a skylight
19,000 BTU ducted furnace
Refrigerator
Microwave as an optional extra
Seating that converts into a bed
Additional storage space
Choose the Premium X Package Features
Upgrade to the Airstream Basecamp 16X or the Airstream Basecamp 20X package. Go further with:
Goodyear All-Terrain Tires
Black shadow wheel design
Stainless steel rock guards
A lift kit for an additional three inches of road clearance
Front window solar protection
Fully enclosed patio tents for even more sleeping space
Why Choose the Airstream Basecamp Over a Tent?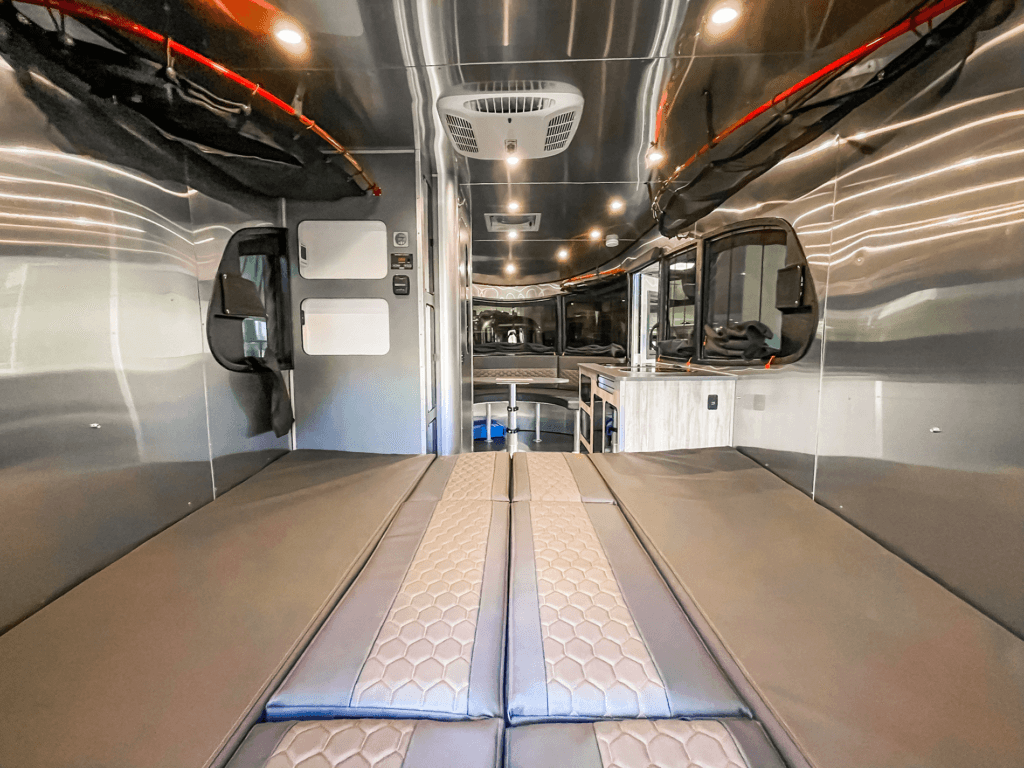 Once you travel in Airstream RVs, you'll never see the need to sleep in a tent again.
Quality
Airstream is a subsidiary of Thor Industries, a company now synonymous with high-quality and innovative design. With their reveals, model updates videos, and awards, it's clear that much thought goes into upgrades.
Wet Bath Saves Room
The room is limited in any travel trailer, meaning you often have to choose between a shower or a toilet. The Airstream Basecamp incorporates both with an innovative wet bath.
Air Conditioning
Keep your cool with the optional 9,200 or 13,500 BTU air conditioner.
Hot Water Heater and Furnace
The AC is optional, but heating and hot water are essential in colder climates. You can always come in from the cold with a highly efficient 12,000 or 19,000 BTU furnace.
12V Tank Heaters
Use the tank heaters when it's not cold enough to keep the heating on but still cold enough to freeze the water in the tanks. These tanks help you save power while still enjoying running water.
Marine Fabric
The seat covers of this small camping trailer are about more than the interior décor. They are:
Antibacterial
Stain-resistant
Flame-retardant
Mildew-resistant
Whether camping at the beach or in a bayou, you'll be glad to have this rugged, easy-to-clean marine fabric.
Sleek Galley
Cook comfortably with a two-burner stove and store the leftovers in your spacious refrigerator.
Attachable Tent
Do you need extra sleeping areas or enjoy sleeping under the stars? Opt for the X package to get the tent system. The air-tube technology provides rigid support to expand your storage and living space.
Plenty of Elbow Room
You have plenty of room to move with a generous interior width, interior height, and long body. The floor plans allow for reasonable movement. The sleeping capacity and spacious design make staying anywhere overnight a pleasure.
Additional Sleeping Area
Make your bed by moving the cushions from the seating. However, the two benches in the back do not count as part of the sleeping capacity.
The Airstream Basecamp 20 features a U-shaped convertible dinette and removable tables to increase your usable floor space. Guests can dine comfortably, and you can increase the sleeping capacity. This adjustable floor plan makes this feature one of the most valuable.
The Exterior of the Airstream Basecamp
The adventure-ready travel trailer exterior has as many thoughtful additional features as the interior.
Easy for You to Tow
The maximum hitch-weight with the batteries comes to 535 pounds, which is small enough for a mid-sized SUV. The streamlined design glides along the road, cutting through the air and reducing fuel consumption.
Better Handling Off Road
The larger wheels and steep departure angle make it possible to tackle uneven terrain.
Protective Features
Wheel flares and rock guards protect the body from damage caused by debris the wheels kick up.
Storage for Your Gear
Hitch up the travel trailer and haul your equipment like kayaks, fishing poles, and supplies. The rear hatch is spacious.
Outstanding Views
The windows allow for almost complete panoramic views. Stone guards protect the front windows and swivel out of the way so you can quickly clear off smudges. Optional solar protection filters out the haze and brightens your vision.
Big Tires and Wheels
These allow you to traverse various types of terrain without affecting the sleeping capacity.
Solar-Ready
All the wiring is in place to attach solar panels and control them from inside your Airstream.
Heavy-Duty Jacks
High-quality stabilizer jacks keep the cabin steady while in transit. They provide long-lasting support over rough ground.
Why Choose This Travel Trailer
The design turns heads, is highly functional, and features everything you need. Carrying an Emerald rating, the highest level of TRA-Certification, and a three-year warranty, your purchase is well worth the money.
Choose Your Airstream Basecamp Travel Trailer
We provide the best Airstream Basecamp deals at the We Are Airstream Superstore. Give us a call and begin your travel trailer experience today. Contact us!