Airstream Classic Guide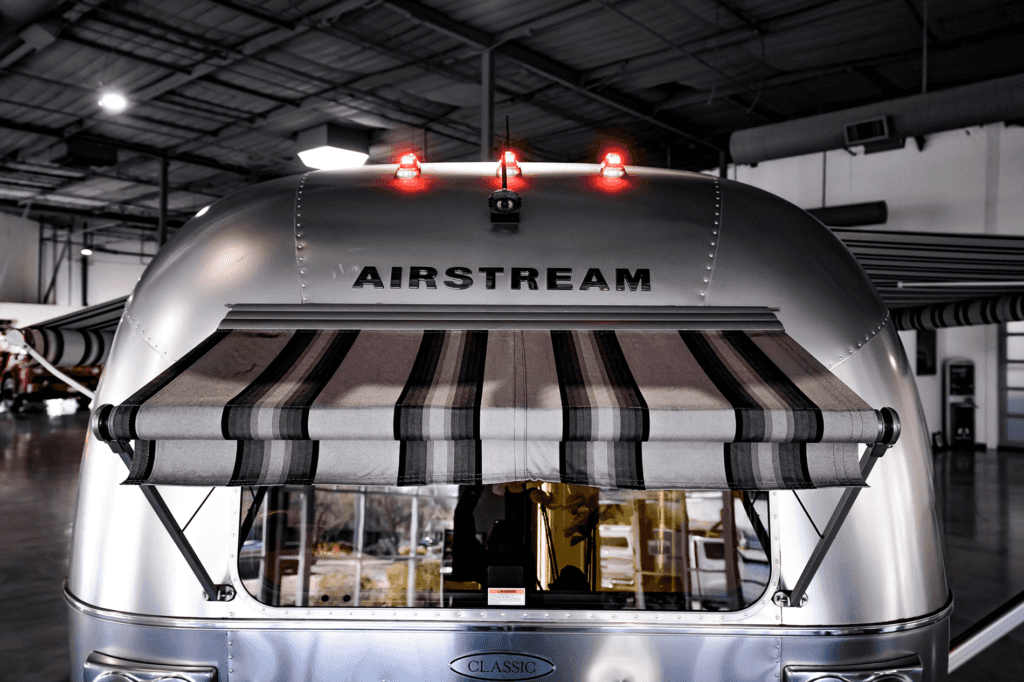 The Airstream Classic 33FB and Airstream Classic 30RB are your top-of-the-line travel trailers. Both models provide a sleek exterior and a modern interior. Comfort and luxury are just some of the words that people use to describe the Airstream Classic.
The Classic 33FB and 30RB can go the distance, making them perfect for those looking to take longer trips. In addition, they come with a wide array of amenities and features that make your life on the road more secure and effortless. While most travel trailers lack the space for stunning bathrooms, ample storage, or a roomy living area, the Airstream Classic has all the above.
Not only does the Airstream Classic offer two-floor plan options and can sleep up to five people, but it also has plenty of space and an impressive interior height. So, there is room for everyone, whether you have small children or pets. The Airstream Classic 33 and 30 RB are the perfect trailers to explore new places without sacrificing comfort and style.
Airstream Classic Interior Amenities
The Airstream Classic 33 and Airstream Classic 30RB are the most sophisticated travel trailers on the market. The Airstream Classic has an impressive floor plan that boasts stainless steel appliances, private bedrooms, and a dedicated lounging section. It also comes with various interior decor selections to choose from, so you are sure to find a style that is unique to you.
This article will take a closer look at these amenities and how they enhance your travel trailer experience.

Smart Control Technology
The Airstream Classic is equipped with smart control technology, allowing you to control your RV wherever you are. These controls include turning on and off your exterior and interior lighting, monitoring battery levels, and adjusting the temperature of your air conditioner or heat pump. With its advanced heating and cooling system, you can feel confident on those colder camping trips or hot desert excursions.
You can even connect to Bluetooth, WiFi, and Apple AirPlay.
Spacious Galley Kitchens
The Classic is adorned with beautiful stainless steel appliances, making the kitchen stylish and functional. This Airstream comes with all the features of a traditional kitchen, including:
Convection microwave
Oven
Sink
Refrigerator
Freezer
The kitchen offers a pantry with adjustable shelves and a glass top that covers your burner cooktop to provide more counter space. In addition, there is a deep sink with enough room to wash larger pots and pans. There is even space for an LP gas oven. However, if you choose to forgo the oven, you can add additional drawers.
With all these advanced amenities, you can easily cook homemade meals and enjoy an intimate dining atmosphere from the comfort of your Airstream Classic.
Luxurious Bathroom
The Airstream Classic proves there is no need to compromise luxury just because you have a small living space. The bathroom has a heated towel bar and a heated shower floor; the shower has an adjustable large shower head and a skylight.
In addition to these conveniences, there is a mirrored double-door wardrobe and storage below the sink. There is even a bathroom fan and window.
Impressive Sleeping Capacity
The Airstream Classic is large enough to sleep five. Whether you want to fit a queen bed or twin beds, you can make the space uniquely your own. There are controls for the lighting and cabinet doors made from solid wood on both sides of the bed and plenty of storage underneath. There is also the option to fold the bed up during the day, giving you more space.
Perhaps the best feature of the bedroom is the beautiful panoramic window, allowing you to soak up the scenery from the comfort of your bed.
Comfortable Living Area
In addition to its spacious kitchen and luxurious bathroom, the Airstream Classic offers a comfortable living area. The Classic 33FB has a remote-control projection TV and handcrafted cabinetry. With its sufficient storage, beautiful interior, and convenient amenities, it is no wonder why people consider it one of the best travel trailers on the market.
Airstream Classic Interior Decor Options
Not only does the Airstream Classic have luxurious amenities, but it also looks sophisticated. With four styles to choose from, you are sure to find something that matches your personality.
Interior Combinations
Comfort White with Earl Grey Ultraleather
Comfort White with Cafe Latte Ultraleather
Estate Brown with Earl Grey Ultraleather
Estate Brown with Chamomile Ultraleather
Additional Airstream Classic Features
Climate control
Carbon monoxide detector
Built-in safe
Fire extinguisher
Grill hookup
Key hooks
With all these enhancements, the Airstream travel trailers are the best options for travelers looking for adventure and a true getaway.
Airstream Classic Exterior Amenities
The luxurious amenities do not just stop at the interior. The Airstream Classic also comes with exterior features that enhance the overall experience. As a result, Airstream provides the perfect balance of security and style in their classic travel trailer.
Doorbell
The Airstream Classic has an LED doorbell that you can turn on and off the main battery disconnect.
Power Awning
The power awning provides ample shade and ambiance to your RV. Whether you are looking to enjoy lunch outside and require some shade or just want to admire the view, the awning is a great addition. You can easily control it with a touch of a button, so there is no hassle, just convenience.
Rear View Camera
Having a backup camera is a helpful addition. Placed in the back of the trailer, it makes backing up easier and safer.
Why Choose the Airstream Classic?
The Airstream travel trailer will make your road trip as comfortable as possible with its top-of-the-line amenities and spacious interior.
Airstream creates trailers that last. The Airstream Classic 33FB and 30RB are the ideal getaway vehicles, featuring the best materials and the latest technology. For more information on the Airstream Classic, contact We Are Airstream Superstore.
We Are Airstream Superstore is your trusted Airstream dealer serving Chandler, AZ, and Santa Barbara, CA. Contact us today at CA (805) 691-9200 or AZ (480) 467-3737 to speak with an expert about your options.