Airstream Flying Cloud Guide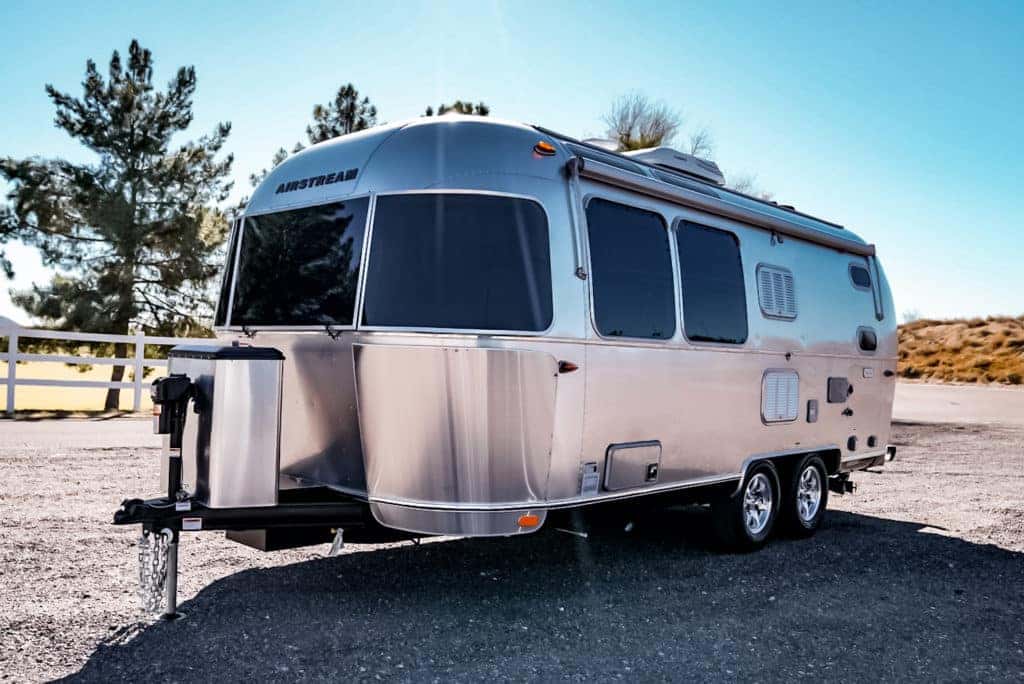 Have you ever seen an Airstream Flying Cloud and wanted to know more about it? It's one of the most popular Airstream designs, and many travel trailer enthusiasts love its versatility and sleek style.
In this guide, we'll explore the features of the Airstream Flying Cloud and show you how to make the most of your travel trailer experience. Let's get started!
What Is an Airstream Flying Cloud?
The 2021 Airstream Flying Cloud is a family-friendly travel trailer that fits perfectly for those who love to explore the great outdoors. This travel trailer provides all the comforts of home while on the road, with fully-packed features that make camping trips a breeze.
Another huge advantage of owning an Airstream Flying Cloud is its versatility. Whether you want a powered desk to serve as your office space or enough bed space for the entire family, this trailer can easily accommodate your needs.
Plus, the neutral colors and modern design of the Airstream Flying Cloud offer flexibility for those who want to personalize their space. You can easily add unique touches without compromising the sleek look.
Choose Among Various Floor Plans
No matter how many people you're traveling with, or what type of activities you enjoy, there's a Flying Cloud for you. The abundance of size and layout options makes it easy to find one that perfectly meets your needs.
The Airstream Flying Cloud 23FB is the smallest option, but it doesn't sacrifice any of the features that make this travel trailer great. The Airstream Flying Cloud 23FB comfortably fits a family of four and includes a full bathroom, kitchen, and dining area.
Those who want more space can opt for the Airstream Flying Cloud 25RB. Its floor plans benefit from the extra foot of length, giving you more room to move around inside and enough sleeping space for six. The 30FB bunk model is perfect for larger groups or families with small children and features plenty of storage.
Flying Cloud Features We Love
Regardless of your chosen floor plan, all Flying Cloud models come packed with features that make camping more convenient and comfortable. Here are some of our favorites:
Thoughtfully Designed Bathroom Space
Every detail in the Flying Cloud bathroom will make your life easier, from the thoughtfully placed towel rack to the removable shower head. The porcelain toilet is easy to clean, and the shower features a retractable clothesline for wet towels and bathing suits.
Functional Galley
If you love cooking, you'll appreciate the spacious galley in the Flying Cloud. It features an oven, microwave, refrigerator, cooking vent, and foldable three-burner gas stove. Plus, there's plenty of counter space for food preparation.
Comfy Sleeping Areas
Airstream designed the Flying Cloud with comfort in mind, and it shows in its sleeping areas. The mattresses use comfortable memory foam for a good night's sleep, and you can conveniently turn the convertible dinette into an additional bed area.
Different floor plans offer different sleeping arrangements, so you can choose the one that best meets your needs. Some feature twin beds, while others have a queen bed in the front. The under-bed storage is also a big plus for those who want to keep their belongings close.
Generous Storage
Even with the smaller Flying Cloud 23FB, you'll never have to worry about storage space. Overhead cabinets line the interior, and many furniture pieces have built-in storage. Plus, the exterior features generous compartments for all your camping gear.
Other thoughtful additions like key hooks and spice racks make it easy to keep your interior organized.
Spacious Dinette
Food and family time are two of the best parts of any camping trip, and the Airstream Flying Cloud's dinette makes them more enjoyable. The dinette's table and seating mode provide the perfect spot for family meals, games, and conversation, with an extra lounging area along the side. A window also runs the length of the dinette, so everyone can enjoy the view.
Effective Temperature Control
The Flying Cloud utilizes an A/C, heat pump, and electric thermostat, so you can always find your comfort zone inside your travel trailer. The heat pump is a particularly nice touch for those who like to camp in winter.
Entertainment Center
After a long day of exploring, you'll appreciate the Airstream Flying Cloud's entertainment center. It comes with JL® Audio sound system, so you can relax, watch a movie, or listen to your favorite music. The premium leather seating in the living area is also comfortable and maintenance-friendly.
Complete Aluminum Interior Walls
The RV interior utilizes complete aluminum walls for a light, airy design. Every window placement strategically provides cross ventilation and natural light, with aluminum frames for a consistent look. Lastly, the handcrafted aluminum screen door is easy to open and floods the space with natural light.
Cozy Interior Lighting
The light fixtures throughout the Flying Cloud have a soft, welcoming glow. If you want some natural sunlight, just open the skylight, one of the many windows, or the unique front door. You can also enjoy the view from the comfort of your bed, with large windows on either side of the interior.
Patio Area
The Flying Cloud has a patio area, complete with an outdoor shower and patio awning. It's the perfect spot to enjoy the outdoors, and you can easily set up your camp kitchen here. It also features a dimmable patio awning light and an automatic rain sensor for added functionality.
Functional Exterior
The Flying Cloud's exterior is just as functional as the interior. The exterior height and exterior width make it easy to tow and maneuver, with electric brakes and steel tanks for safety. With access points on both sides, you can easily set up your camp kitchen or gear.
Browse Through Our Flying Cloud Travel Trailers Today
At We Are Airstream Superstore, we have a wide selection of 2021 Airstream Flying Cloud vehicles for sale. If you're unsure which Airstream model works best for you, our team can help. We'll break down the various specs, from interior height and hitch weight to sleeping accommodations and window placement.
Browse through our Airstream travel trailers and jumpstart your outdoor adventure today!