Airstream Globetrotter Guide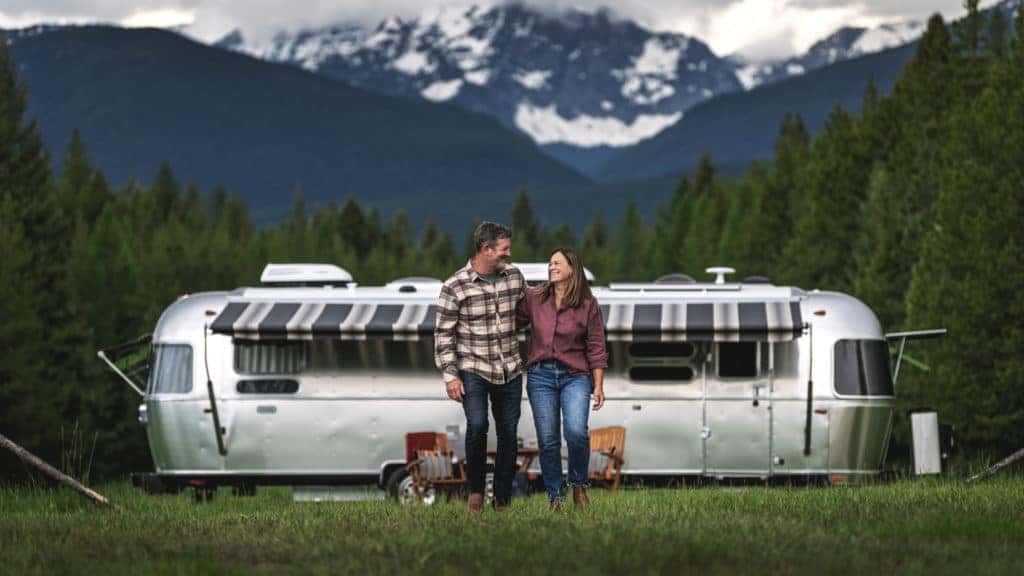 Are you in the market for a new Airstream? If so, you may be wondering which one is right for you. With so many different models to choose from, it can be tough to decide.
In this blog post, we'll take an in-depth look at the Airstream Globetrotter model and give you a few reasons why we think it's one of the best options out there!
The Globetrotter's Special History
In 1948, Airstream founder Wally Byam and his friend Cornelius Vanderbilt IV personalized their trailer with a "Globe Trotters" sign and took off for Europe. This special vehicle inspired the name of the Globetrotter model, later introduced in the 1950s.
Over the years, the Globetrotter received several updates and upgrades, but its iconic style and function remain the same. Many travel trailer owners and enthusiasts agree that the Globetrotter model is the epitome of modern camping, providing all the comforts of home while on the road.
A Floor Plan for Everyone
One of the best things about the Airstream Globetrotter trailer is that it comes in various floor plans to suit any need. All options come with bedding for up to six people, and you can choose between twin beds or a queen bed, depending on your preference.
The Globetrotter 27FB model maximizes its 27-foot space with a seamless kitchen and living area that includes a convertible dinette. If you want the roomiest floor plans, the Globetrotter 30RB features 30 feet of living space with the same beautiful, modern design.
Airstream Globetrotter Features We Love
Now that we've given you a brief overview of the Globetrotter, let's take a closer look at some of its features:
Modern European-Inspired Aesthetic
First and foremost, we love this vehicle's sleek, modern design. The crisp, clean lines and soft curves give it a luxurious feel reminiscent of European travel trailers. With its aerodynamic shape and smooth aluminum exterior, the Globetrotter will surely turn heads as you cruise down the highway.
Customize the Bathroom the Way You Want
This Airstream travel trailer offers two bathroom layouts. You can have two separate spaces with a shower on one side and a toilet/sink on the other, or a combined bathroom with a shower/toilet/sink in one room. Either way, you'll get ample storage space for all your bathroom essentials.
Seamless Storage
Speaking of storage, the Airstream Globetrotter has plenty of it! One of this model's defining features is its custom-curved wooden cabinet doors.
This unique design allows you to fully utilize the space inside, so you can store everything you need without feeling cramped. It uses hydraulic hinges that keep each door in place when opened, and they softly close when shut. You'll also find storage space under each bed, a closet area, and exterior compartments for larger items.
Your Home Kitchen on the Road
There's nothing like being able to cook your favorite meals while on vacation. The Globetrotter comes with a fully equipped kitchen, complete with a stove, Baraldi cooking vent, oven, stainless steel sink, microwave, and refrigerator. You'll also find plenty of counter space for meal prep, as well as cabinets and drawers for all your cooking essentials in the Globetrotter.
Charge Your Devices With Ease
Do you struggle to keep your devices charged while on the road? With Globetrotter Airstream trailers, that's a thing of the past. This model comes with numerous 110-volt outlets and USB ports, so you can easily charge your phones, laptops, and other devices.
Set Up Camp Faster
If you're like most RV owners, you probably experienced the frustration of spending hours setting up camp. Globetrotter Airstream travel trailers utilize power stabilizer jack and awning technology, so you can do all the prep work in minutes. When you're ready to pack up and hit the road, you can retract both of these with the push of a button.
Luxury Upholstery
One feature that sets the Globetrotter apart from other Airstream travel trailers is its award-winning HITCH fabric upholstery. This luxurious material feels soft to the touch and features a distinct, two-tone feel and metallic tip print.
If you're worried about spills, don't be! The HITCH fabric is also stain-resistant and easy to clean.
Entertainment for the Whole Family
On those rainy days when you're stuck inside or on one of those long drives between destinations, you'll be glad to have the Globetrotter entertainment system.
This model has an LG LED HDTV, a built-in sound system, and a Blu-Ray™ player running 110V battery power. You can watch a movie, listen to music, or play video games to your heart's content in the Globetrotter.
Panoramic Windows
The outdoor views are one of the best parts of RVing. With the Globetrotter travel trailer, you can enjoy them to the fullest, thanks to its panoramic windows on opposite ends. It also features an innovative skylight system that brings in natural light and fresh air.
Versatile Dinette
The Globetrotter 27FB, 25FB, and 30RB all feature a dinette area that comfortably seats four people. When it's time to turn in for the night, you can quickly convert this space into a sleeping area. This versatile feature is perfect for families or groups of friends who want to travel together.
Effective Temperature Control
Anyone who owns RVs knows that the erratic weather is one of the hardest things to deal with while on the road. The Globetrotter comes with Quietstream™ Climate Control technology to help you keep your cool (or warm) no matter what the temperature is outside.
Check Out Our Globetrotter Travel Trailers Today
Are you looking for a 2020 Globetrotter with 30RB twin bed floor plans? Maybe you're interested in the Globetrotter 27FB with a queen bed? No matter your preferences, We Are Airstream Superstore can help you find the perfect Airstream travel trailer for your next adventure.
Our selection of vehicles is second to none, and our facilities are some of the best in the business. Check out our website, or visit us in person to see what Airstream Globetrotter options we offer!