Airstream International Guide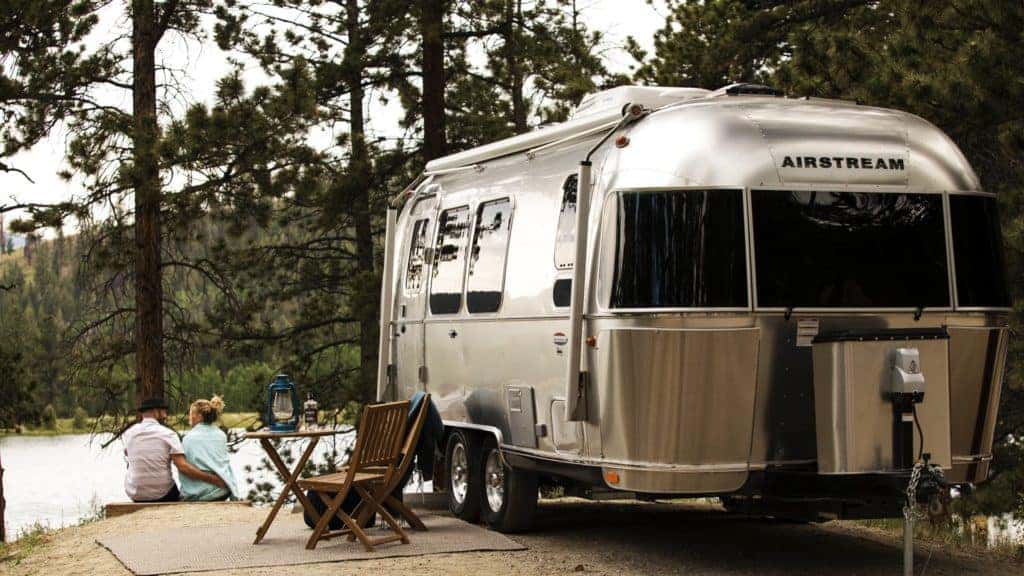 Airstream Internationals are a unique and luxurious type of RV. With their modern, carefully crafted design, they offer both style and comfort on the road.
If you're in the market for an Airstream or are just curious about what they're all about, you've come to the right place! In this guide, we'll break down the features and amenities of the Airstream International and what sets them apart from other RVs on the market.
What Is an Airstream International?
The peaceful and elegant interior of the International makes it a favorite choice for luxury RV enthusiasts. From its sleek metal trim and cool-toned wood surfaces to the dimmable, mood-setting lights, this travel trailer oozes style and sophistication.
This travel trailer also doesn't skimp on creature comforts. The Airstream International comes with full-size kitchens complete with premium Coran countertops, spacious bathrooms with showers, and comfortable bedrooms.
Floor Plans That Flow
Whether you're a family of four or a larger group, there's an Airstream International model to fit your needs. All its available floor plans offer a smooth, uninterrupted flow from the kitchen to the living area and dining space.
The smallest variant, International 27FB, is perfect for four people who want to hit the road with all the comforts of home. The 23-foot length of the International 27FB also makes it easy to tow and maneuver.
If you want the most spacious floor plans, check out the International 30RB. This model can comfortably sleep six and has plenty of storage space. Many of its owners love the roomy front lounge with a wide panoramic window.
Airstream International Features We Love
The 2021 Airstream International has many features that make it one of our favorite travel trailers. Some of our favorites include:

A Clean, Peaceful Style That Will Soothe Your Soul
Each carefully selected furnishing and material used in the International aims to relax its occupants. While some might think metal surfaces would make an RV interior look cold, Airstream uses them throughout the design to add a touch of elegance. This silver sanctuary also utilizes numerous wooden design elements for a natural, homey atmosphere.
Plus, even smaller models like International 27FB feature plenty of windows to bring openness and ample natural light.
Space for Everything 
No one likes feeling cramped on vacation, and that's why we love that the International has storage galore.
From the bedroom closets to the overhead cabinets, there are places for everything. Almost all of the compartments in the International also have built-in LED lighting. This thoughtful addition makes it convenient to find what you're looking for — even in the middle of the night.
Functional Galley
Make food prep a breeze with the International's fully equipped kitchen. Each model has a stainless steel sink with a cutting board cover, Baraldi cooking vent, microwave, oven, and stove. If you love to cook while you travel, you'll be happy to know that each kitchen also features plenty of counter space and storage for all your supplies.
Convenient Charging Locations
RV owners will appreciate the multiple USB and 110-volt outlets throughout the International interior. You can charge your devices without ever having to leave your comfortable seat. This feature is particularly useful if you run a business and need to stay connected while on the road.
Calming Bathroom Space
Some travel trailers have tiny, cramped bathrooms that feel more like an afterthought than a necessary part of the design. That's not the case with the Airstream International. The bathroom in this RV feels spa-like, with its beautiful seaside textures and natural lighting.
It also features plenty of hidden storage space. Even in the smaller International 27FB, you won't have difficulty storing all your toiletries and towels.
Bedroom with A View
The bedroom in the 2021 Airstream International travel trailer is your personal oasis — a place where you can relax and recharge. Everything about this space, from its wood furniture and coastal accents to the panoramic windows, will make you feel at ease.
Every bed in the International also features pillow-top memory foam mattresses for maximum comfort and support. You'll wake up feeling refreshed and ready to start your day.
Entertainment Done Right
Who says you can't take your entertainment with you on the road? The Airstream International comes with two mounted, high-definition TVs and JL Audio® surround sound technology, perfect for watching movies with your family or jamming to some music.
The lounge area features premier leather seats with a soft and supple texture, great for doing business on the road. They're durable, pet-friendly, and low-maintenance, so you don't have to worry about spills and messes.
Climate Control
Airstream International travel trailers will keep you comfortable no matter the weather outside. Each model features an AC system, heat pump technology, gas furnace, and electronic thermostat to ensure your interiors stay at the desired temperature.
Security and Safety
We know that safety is a top priority for veteran travelers. So you'll be glad to know that the Airstream International comes with various features to give you peace of mind on the road.
From its unique front door key with a heavy-duty deadbolt lock to the smoke and carbon monoxide detectors, you can rest assured that you and your family remain safe while you're away from home.
Make Solar Powering a Breeze
If you're looking for an RV that's easy to power with solar, the Airstream International is an excellent option. It comes with pre-wiring and monitoring for solar panels, so you can install a system with minimal effort.
Browse Our Selection of 2021 Airstream International Travel Trailers Today
The 2021 Airstream International travel trailer creates a fine balance between purposeful design and artful detail. If you're looking for a vehicle that's as beautiful as it is functional, this is the one for you.
Here at We Are Airstream Superstore, we carry a wide selection of Airstream travel trailers for sale. If you're ready to give yourself the perfect adventure, browse our inventory and find an International model today. Our experts are always available to answer any questions you may have.