Complete Guide on Airstream Travel Trailers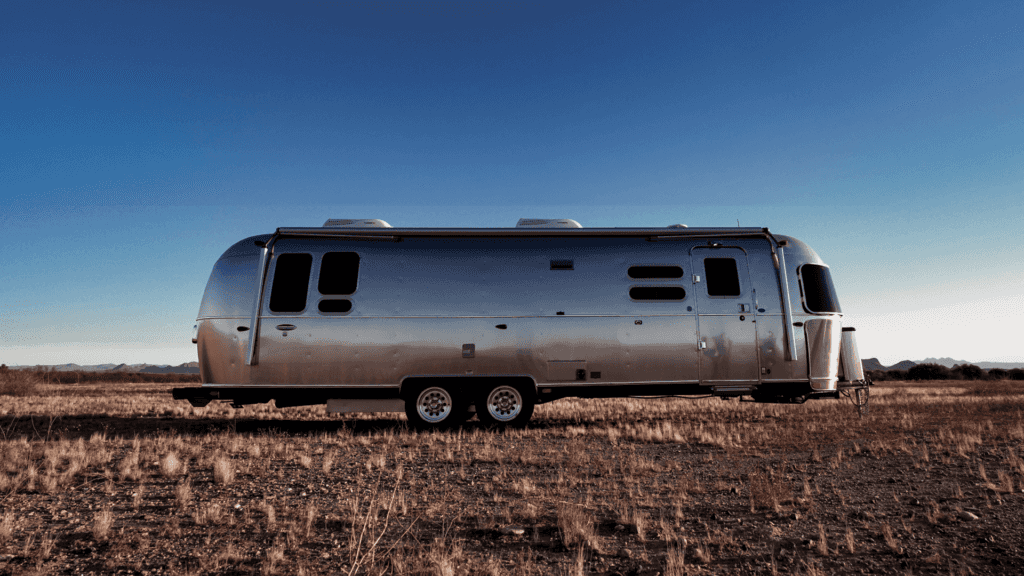 Airstream campers have gradually grown from a one-man operation run in a backyard to an American icon. Today, many people can easily identify these instantly recognizable RVs, but few know their history and the reason behind their dominance.
This post will take a closer look at Airstream RVs, sharing with you their history and the current lineup of these touring coaches.
The History of Travel Trailers
The history of the Airstream began in Los Angeles in the late 1920s when Wally Byam founded them. Byam was born on the 4th of July, 1896, growing up on his uncle's sheep farm. He lived in a donkey-towed wagon equipped with water, a stove, food storage, and other comforts.
Wally Byam went on to graduate from Stanford in 1921 before working in journalism, advertising, and publishing. Though he enjoyed going camping with his wife on the weekends, he did not enjoy sleeping on the hard, cold ground.
He would eventually come up with what would be a proto-trailer for the Airstream that caught the attention of travelers and campers. This interest prompted Byam to launch a Depression-era operation in the late 1920s, spending the next few years designing Masonite RVs in his backyard.
The Airstream Clipper and Continued Success
Once the business was off the ground, Byam bought the rights to the Bowlus Road Chief, an aluminum travel trailer that Hawley Bowlus designed.
Byam rebadged the Road Chief, tweaking its bodywork and improving its fuel economy, introducing it as the Airstream Clipper. Thanks to its unique appearance and quality craftsmanship, the Airstream Clipper found early success and weathered the storm over the years.
Over the next 80 to 90 years, Airstream RVs continued to add new models, from touring coaches to adventure vans and motorhomes. Today, Airstream produces 13 different models, eight campers and five touring coaches.
Airstream RVs Lineup
The following includes a brief look at Airstream's eight models that currently make up the company's trailer lineup.
Basecamp Range
Airstream introduced this model in 2007 before redesigning it in 2016. The Basecamp is a compact trailer whose modern design favors a more contemporary look that maintains the familiar riveted aluminum cladding. The Basecamp Range houses up to four people, comes with multiple floor plans, and is available in an off-road-ready X-spec.
Bambi Range
The Bambi Range utilizes Airstream's traditional design and profile but in a truncated form. This trailer offers a modern and plush interior, consisting of a bathroom with a shower, a full galley kitchen, a bedroom, HVAC, and an LED HD TV.
Caravel Range
While the Caravel has the same dimensions as the two previous models, it offers you a more thoroughly optioned off-grid experience. It also has a more extensive list of features and amenities that come as standard.
Flying Cloud Range
This model rates as one of the most popular travel trailers Airstream produces. Many praise it for its family-friendly nature, all-around versatility, and the dozen floor plan options available. Furthermore, its interior includes a modern and luxurious feel, looking more like the interior of a boutique hotel than that of a standard Airstream travel trailer.
International Range
The International Range is a full-size luxury camper with a stunning interior space, ducted furnace, an opening rear hatch, dimmable patio lights, and a rearview monitoring system. Besides the 11 floor plans you can choose from, you can also pick from several optional features.
Globetrotter Range
This model sports a refined version of Airstream's classic exterior design and a modern, well-appointed interior with woven seating, stunning dark wood cabinetry and trim, and stainless-steel appliances.
Pottery Barn Special Edition
In 2021, Airstream partnered with Pottery Barn to produce a travel trailer designed to be a modern version of the company's 28' International Range. This model features a host of Pottery Barn accessories and furniture, including an outdoor hanging table and a solid oak wood table.
It even has an exclusive Pottery Barn accessory kit consisting of an armchair set, doormat, folding table, and 16-piece dinnerware set.
Classic Range
The Classic Range feels more like a luxury home on wheels, offering more living and storage space than any other model. It comes with top-shelf features like power-controlled blinds, a climate control system, handcrafted luxury cabinets, and a heated shower floor and towel bar.

Finding the Right Airstream Travel Trailer
With all these Airstream RVs to choose from, you might find picking the right one a challenge. Fortunately, these considerations may make your decision easier.
Sleeping Capacity
One way to make your decision easier is to determine how many people will be hitting the open road with you. Knowing this number helps you identify the sleeping capacity you will need.
Weight
Since you will need a vehicle to tow the trailer, weight is a crucial consideration. Focus on unit base weight and hitch weight, also factoring in battery and LP weight.
Amenities
Explore the amenities the model offers as standard, as well as the features it has, such as electric awnings, rearview monitoring systems, and heated shower floors.
Besides looking at these factors, you also have the option of visiting the Airstream website and reviewing the specs of each configuration. Airstream also offers a side-by-side comparison tool and even allows you to take virtual 3D tours and build your trailer using its online configurator.
Why Own an Airstream Travel Trailer?
While you can find several other camper companies, you will discover the many reasons why owning an Airstream is ideal. For starters, their durability allows them to last up to 40 years on the road with proper maintenance.
If that wasn't enough, Airstream RVs have a classic design that turns heads. In addition, Airstreams prove resistant to corrosion and rust, simple to maintain, more stable, and have good gas mileage. These reflect just a few of the many reasons why the Airstream upholds its standing in the camper industry.
For more information on the company's RVs, sign up for Airstream's newsletter or reach out to We Are Airstream Superstore of Chandler at (480) 467-3737, your number one source for Airstream RVs in Arizona.