What to Look for in a Vehicle to Pull an Airstream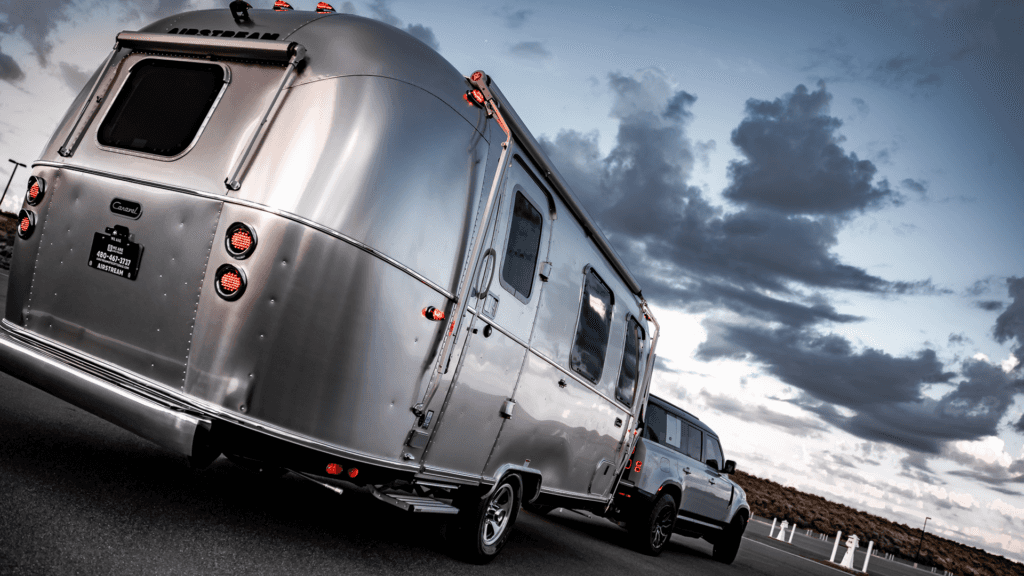 Your Airstream is your home away from home, and you want to be sure that you can take it wherever you go. That means finding a tow vehicle that is up to hauling your trailer safely and securely.
Our experts at We Are Airstream Superstore are here to help you find the perfect match for your Airstream and your driving needs. Here are a few things to consider when shopping for a vehicle to pull your Airstream.
Trailer and Tow Vehicle Specifications to Consider
The easiest way to assess the compatibility between your Airstream and a potential towing vehicle is to consider the statistics. First, let's take a look at your trailer's specifications:
Gross Vehicle Weight Rating (GVWR). The gross weight is the weight of your fully-loaded trailer, including all your gear, water, and supplies. This specification is the absolute maximum weight allowed for your trailer, and you should never exceed this number.
Trailer Tongue Weight Capacity (TTW). The TTW is the trailer coupler's downward force exerted on the hitch ball. The max tongue weight should be 10 to 15% of the GVWR. You can typically find these values on a sticker on the tongue or rear of the trailer.
Dry Weight (DW). DW is the weight of your trailer when it's empty. This number is crucial because it will give you an idea of how much your trailer will weigh once you fully load it.
Gross Axle Weight (GAWR). The GAWR shows how much weight your trailer's axles can hold. You'll find this number on a sticker on the axle itself.
Now that you know your Airstream's specifications, you can start shopping for a vehicle with excellent tow ratings. Here are a few things to keep in mind:
Max Towing Capacity. The tow capacity is the maximum weight of the trailer that a vehicle can tow safely. You can typically find the vehicle's tow rating in the owner's manual or on a sticker inside the driver's door.
Payload Capacity. In addition to the vehicle tow limit, you should consider the vehicle's payload. The payload is the total weight of all your gear, passengers, and supplies that your vehicle can safely handle. You can find this specification in the owner's manual or on a sticker inside the driver's door.
Simply find the max towing limit and capacity of your vehicle and compare it to the GVWR of your trailer. Your vehicle can safely tow your Airstream if it's higher than the GVWR.
Keep in mind that this is only a general guideline. If the TTW combined with the passenger and cargo weight exceeds the payload limit of the vehicle, then you will be overloading your vehicle. Always check your maximum tow rating and payload if you want to bring more than three people with heavier cargo.

Engine Specifications
With the basics out of the way, let's take a closer look at the engine. A larger engine will have more power to handle a higher trailer weight, but that's not the only factor to consider.
The type of engine is also crucial for trailer towing. A gas engine typically has more power than a diesel engine of the same size, but a diesel engine will have better fuel economy, lifespan, and torque.
Choosing Your Tow Vehicles
Not all tow vehicles are equal. Some are simply better suited for the job than others. Let's go over some of the most popular options and their advantages.
Pickup Trucks. Arguably the most popular tow vehicle, a pickup truck offers high towing capabilities, a large payload limit, and plenty of power. They are available in gas, diesel, and even electric options. 4W drive trucks like the Ram truck have better traction, but they also come at a premium.
SUVs. SUVs towing with Airstreams are becoming increasingly popular, especially using those with truck chassis for enhanced towing ability. Their main benefit is their comfort and large array of high-quality features. Some notable options are the Ford Expedition and Jeep Grand Cherokee, which are suitable for towing heavy loads.
Vans. If you're looking for a new tow vehicle that can still tow a decent amount of weight, then a van might be the right choice. With their larger size, they can accommodate more people and cargo. Remember, though, that most vans have a lower max tow weight than trucks.
Tow Packages
After picking out the right vehicle, you should also ensure that it has the right equipment for towing. The last thing you want is to become stranded on the side of the road with a flat tire or no brakes.
Most vehicles with a high tow rating have a towing package that includes:
Weight Distributing Hitch. The weight distribution hitch is the connection point between the vehicle and the trailer. The hitch weight can come in varying forms, so always double-check its compatibility with your vehicle combination.
Trailer Brakes. Brake controllers are a must if you plan on doing any serious towing. When properly equipped, they provide stopping power and help keep your vehicle and trailer safe.
Special Components. Models with higher tow ratings usually house dual rear wheels, cooling systems, suspension, and other components that help the vehicles do their job better. Some even have a max tow package option for those who want the highest towing capacity.
Additional Towing Accessories. Many trailer tow package options come with useful accessories to enhance your driving experience, from tow mirrors and trailer lights to a fifth wheel hitch.

Can't Find a Vehicle with the Right Towing Capacity?
Can't find the right tow vehicle? What if you have a particular vehicle in mind and would like to see a different model vehicle with the same towing capacity? Whatever your needs, our Airstream professionals are here to help.
We can help you find the best tow vehicle options for your travel trailers. Our experts account for the maximum trailer capacity, estimated passenger weight, axle ratio and rear axle capacity, and other essential factors.
Call (480) 467-3737, and let's start looking for your vehicle today.