Why Airstream Basecamp: Is It Worth the Money?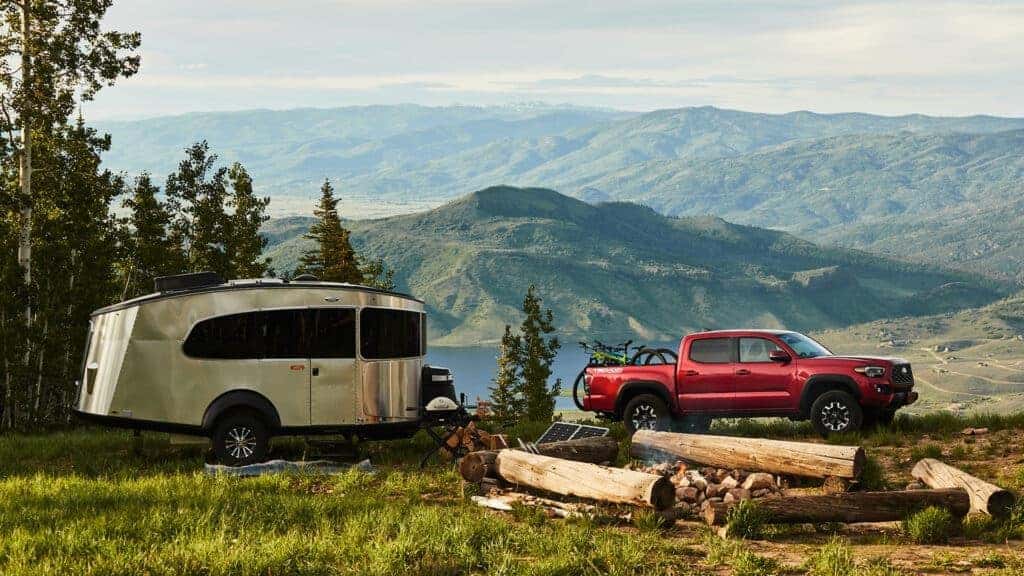 Since its redesign in 2016 and the 2021 addition of the X upgrade, the Airstream Basecamp travel trailer has been making waves. While many view the Basecamp travel trailer as a perfect off-roading option, we'll cover today, WHY?
In this article, we will look at the Airstream Basecamp RV, analyzing its features, pros, cons, and cost in an attempt to determine whether this Airstream travel trailer model is worth the money.
What Is the Airstream Basecamp Travel Trailer?
The Airstream Basecamp is a unique, single-axle camper from Airstream, catering to adventurers who prefer taking their trailers to remote places while camping in comfort.
This model comes in two different floor plans, the Basecamp 16 and the Airstream Basecamp 20. Besides the shiny aluminum exterior that the floor plans share, the Basecamp 20x models also come with several standard features, such as a dedicated sewer hose storage, 12V tank heaters, propane tank cover, and a heated underbelly ideal for winter camping.
Some of the optional upgrades you can get include a 180-watt solar package, modal window, microwave, fridge, air conditioner, and other creature comforts.
Airstream Basecamp 16
The Airstream Basecamp 16 offers a smaller floor plan and can comfortably accommodate two people. It comes with a 21-gallon freshwater tank for cleaning, cooking, and washing up.
Pros
      Its aerodynamic and lightweight structure make it easy to tow
      It has versatile floor plans that you can configure
      It's perfect for two people
      It has a shower pass-through
      Its rear door enables easy loading of bulky or large items
Airstream Basecamp 20
Larger than the Basecamp 16, the Basecamp 20 can comfortably accommodate four people. This floor plan features a convertible rear dinette and front dinette that allows you to configure various bed and sleeping options. The Basecamp 20 also has a larger 28-gallon gray water tank and 23-gallon freshwater tank, making this model more ideal for longer trips.
Pros
      The Basecamp 20 is longer and wider, making it ideal when traveling with more people
      The RV has a greater capacity for boondocking
      Features separated black water and gray water tanks
      The Basecamp 20 comes with an indoor shower and dedicated outdoor shower
In addition to these two different floor plans, the company also offers a Basecamp X package upgrade with additional features like a large rear cargo hatch, increased departure angle, all-terrain tires, and a three-inch lift kit.
Additional Advantages of the Airstream Basecamp RVs
Since Airstream wants to appeal to adventurers, the Basecamp X package is its most rugged travel trailer.
Pros of the Airstream Basecamp
Easy to Tow
The Basecamp 20 and 16 travel trailers are very easy to tow. The lightweight and aerodynamic design make pulling and towing a breeze.
Visually Appealing
Sporting Airstream's classic design, the Basecamp's interior and exterior are visually appealing.
Versatile Floor Plans
Though the Basecamp only comes in two different floor plans, you have the option of configuring them to match your needs. For instance, you can convert the dinette into a half bed, have two single beds at the back, a full bed in front, or a giant bed spanning the trailer's entire rear.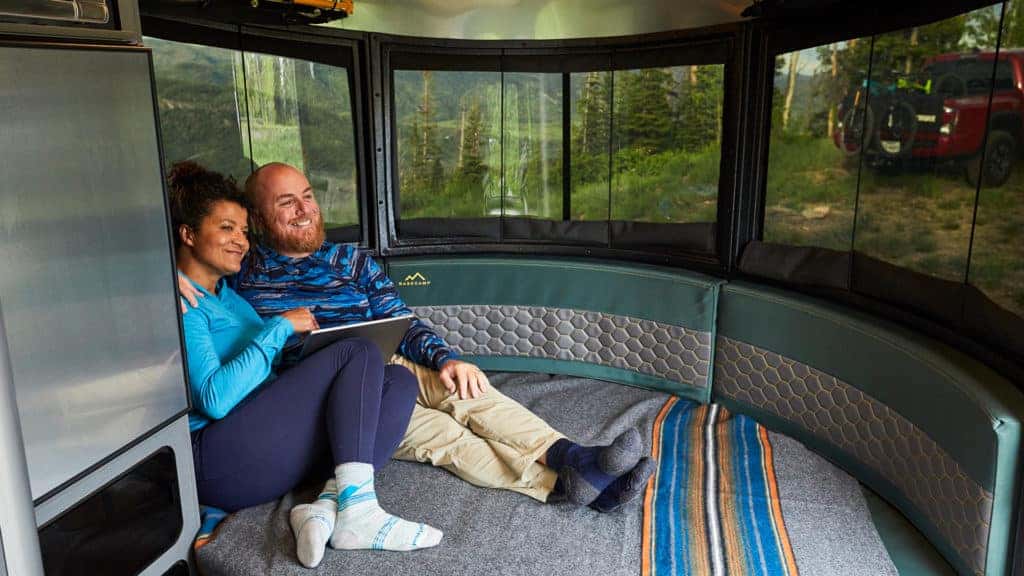 Is It Worth the Money?
If you want an Airstream travel trailer that can serve as a capable off-road camper, then the Basecamp RV promises to be an ideal option. The model consistently receives positive reviews, with many people choosing it for Airstream's well-known beautiful interior design and high standards of build quality.
Furthermore, its unique aerodynamic and single axle design give the Basecamp travel trailer a versatility that no other camper has. The stabilizer jacks are a popular feature, while the heated underbelly and 12V tank heaters help keep campers warm and comfortable during winter.
The company thoughtfully designed the Basecamp with function in mind, fitting these RVs with:
      A stainless steel sink
      A refrigerator
      A microwave
      A seating bench
      USB ports
      A lift kit gear
      Window protection
The Basecamp model also has plenty of small spaces and cupboards and offers more storage space underneath the lounge seating, behind the glass doors, and even on the outside.
The interior of the Airstream Basecamp RV feels more like a luxury off-road RV that does not sacrifice comfort or luxury. It is ideal for overlanding, boondocking, and remote camping and promises to provide you with the mobile kitchen, office, and bedroom you need as you hit the road.
If its price does not deter you, you will not regret choosing the Basecamp travel trailer. Alternatively, if buying one is not an option, you have the option of renting. This option makes an ideal option for those whose camping adventures are limited to a few times in the year.
Your Number One Source for Airstream Travel Trailers
From its classic Airstream construction and visually pleasing interior to its versatility, functionality, and luxury, the Basecamp rates as one of the best off-road campers adventure seekers can get today.
Though the RV does come with a few drawbacks, these disadvantages do not outweigh the camper's pros. Whether buying or renting, the Airstream Basecamp promises to be worth the cost.
To learn more about the Airstream Basecamp, reach out to the We Are Airstream Superstore of Chandler today at (480) 467-3737.